Metal label for office door
Metal label is durable, cost-effective label. It could used in all kinds of equipment, such as electric appliance, furniture, door, bottle, etc. A satisfactory metal label can not only enhance the appearance of your equipment but also show your brand with the traits of durable and nice-looking.
Shunding Hardware is specialized in producing metal label over 15 years. About metal label, there is a significant story between our customer and us. It begins on Mar 6, 2018. Our new customer comes from America who would like to customized a embossed logo metal label. The customer send a rough drawing to us. After carefully check it with our engineer, we find that it is not available to make it,because the embossed part is very close which is impossible for tooling. Then we revised the drawing for the customer, but the customer needs us do the minimum modified for his original drawing. Through many times revised and confirmation with customer, customer gets the design which can meet her request exactly. Then customer can receive the metal label which he really wants to finally .
Applications: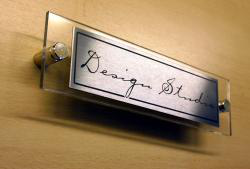 In a word, Shunding will always here to provide the solutions for customers, and produce the metal label which could meet our customers' demand.